Becky's travel has been founded forty years ago and it started as a hobby by the founder, Rebecca Savvides, hence the name Becky which is short, distinctive and easy to pronounce. The reason it started was because the owner liked very much to travel and despite the five children she already had, she could still find time to spend at the business.
The beginning has been extremely difficult because at that time women who worked were not taken seriously and she had to face the hostility of the airlines and the disapproval of a husband who thought it was an offence for the wife to work.

However, from the very beginning the founder has seen the need of organized tours out of Cyprus and was one of the very first people to organize tours at first to the neighboring countries. It did help that she spoke five languages.

Another need that she had seen was cheaper prices for relatives of the UK soldiers to visit Cyprus, so Charter Flights had been organized at only 60% of the cost of normal flights. Since the very beginning the motto of the company has been good service because it is a pleasure to see happy people who come back even after twenty years and tell you they remember what wood times they had through the agency.

However times change and new blood has come into the business. Three of the children were interested to continue the family business, after their studies abroad. It has been a blessing that the old and new generation has blent together so well, as the old generation has accepted the new methods of technology and new generation has respected and listened to experience.

Becky's was maybe the first travel agency to go into internet, and a lot of business is conducted thru the internet. It is a far cry from the beginnings when one had to book a call to Nicosia to get hold of the space control and spend half a hour on a simple booking, which is now conducted within a maximum of five minutes.

However, an asset of Becky's is the personal touch, especially as two of the ticketing people have over twenty years continues service in the company and a lot of experience and always try to find the best value for money for customers. This is the reason why the company deals with business accounts whose people have sometimes to travel at a moments notice as well as efficiently.

The company's premises have always been where it started at 95, Arch. Makarios Avenue, and a few years ago the whole building was bought by the company and rebuilt completely.
Company Information
Year of Establishment
1964
Member of
IATA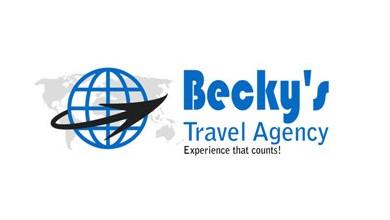 Address & Contacts
Street Address
Archiepiskopu Makariou III Avenue 95 , Limassol 3020 , Cyprus
Contact
Working Hours
now
Normal Opening Hours
Mon:

09:00-13:00

15:00-18:00

Tue:

09:00-13:00

15:00-18:00

Wed:

09:00-13:00

Thu:

09:00-13:00

15:00-18:00

Fri:

09:00-13:00

15:00-18:00

Sat:

Closed

Sun:

Closed